My Blog
Posts for tag: bone grafting
By Arrington Family Dental
November 11, 2017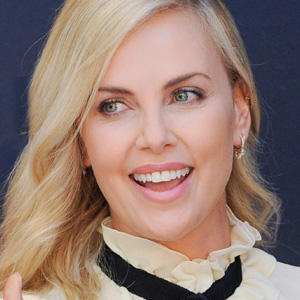 When they're introducing a new movie, actors often take a moment to pay tribute to the people who helped make it happen — like, you know, their dentists. At least that's what Charlize Theron did at the premiere of her new spy thriller, Atomic Blonde.
"I just want to take a quick moment to thank my dentists," she told a Los Angeles audience as they waited for the film to roll. "I don't even know if they're here, but I just want to say thank you."
Why did the starring actress/producer give a shout-out to her dental team? It seems she trained and fought so hard in the action sequences that she actually cracked two teeth!
"I had severe tooth pain, which I never had in my entire life," Theron told an interviewer from Variety. At first, she thought it was a cavity — but later, she found out it was more serious: One tooth needed a root canal, and the other had to be extracted and replaced with a dental implant — but first, a bone grafting procedure was needed. "I had to put a donor bone in [the jaw] to heal," she noted, "and then I had another surgery to put a metal screw in there."
Although it might sound like the kind of treatment only an action hero would need, bone grafting is now a routine part of many dental implant procedures. The reason is that without a sufficient volume of good-quality bone, implant placement is difficult or impossible. That's because the screw-like implant must be firmly joined with the jawbone, so it can support the replacement tooth.
Fortunately, dentists have a way to help your body build new bone: A relatively small amount of bone material can be placed in the missing tooth's socket in a procedure called bone grafting. This may come from your own body or, more likely, it may be processed bone material from a laboratory. The donor material can be from a human, animal or synthetic source, but because of stringent processing techniques, the material is safe for human use. Once it is put in place your body takes over, using the grafted material as a scaffold on which to build new bone cells. If jawbone volume is insufficient for implants, it can often be restored to a viable point in a few months.
Better yet, when grafting material is placed in the tooth socket immediately after extraction, it can keep most of the bone loss from occurring in the first place, enabling an implant to be placed as soon as possible — even before the end of a movie's shooting schedule.
Will Atomic Blonde prove to be an action-movie classic? Only time will tell. But one thing's for sure: When Charlize Theron walks down the red carpet, she won't have to worry about a gap in her smile.
If you have questions about bone grafting or dental implants, please contact our office or schedule a consultation. You can read more in the Dear Doctor magazine articles "Dental Implant Surgery" and "Immediate Dental Implant."
By Arrington Family Dental
December 30, 2013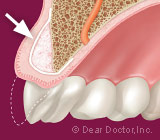 Did you ever think a dentist might suggest that you have a bone graft performed as part of a standard tooth replacement procedure? Believe it or not, it's now a routine treatment — and it's not as complicated as you may think. Welcome to 21st Century dentistry!
If you're thinking about getting a tooth implant — an attractive, strong and long-lasting option for tooth replacement — here are four things you should know about bone grafting.
A bone graft may be needed prior to placing a dental implant.
One major reason why dental implants work so well as replacements for natural teeth is that they actually become fused to the underlying bone. This system offers superior durability, and a host of other advantages. Unfortunately, when a tooth is lost, the surrounding bone often begins to disappear (resorb) as well. In that case, it may be necessary to rebuild some of the bone structure before an implant can be placed effectively.
Bone regeneration for tooth implants is a routine procedure.
When it's needed, bone grafting has become a standard practice in periodontal and oral surgery. It is often performed prior to (or, occasionally, at the same time as) placing a dental implant. The grafting procedure itself can be done in the office, using local anesthesia (numbing shots, like those used for a filling) or conscious sedation ("twilight sleep") to relieve anxiety.
The process may use a variety of high-tech materials.
The small amount of bone grafting material you need may come from a variety of sources, including human, animal or synthetic materials. Before it is used, all grafting material is processed to make it completely safe. In addition to the grafting material itself, special "guided bone regeneration" membranes and other biologically active substances may be used to promote and enhance healing.
Bone regeneration lets your body rebuild itself.
Your body uses most bone grafting materials as a scaffold or frame, over which it is able to grow its own new bone tissue. In time, the natural process of bone regeneration replaces the graft material with new bone. As we now know, maintaining sufficient bone tissue around the teeth is a crucial part of keeping up your oral health. That's why today when a tooth is going to be extracted (removed), often a bone graft will be placed at the time of extraction to preserve as much bone as possible.
Are you considering dental implants for tooth replacement, and wondering whether you may need bone grafting? Come in and talk to us! With our up-to-date training and clinical experience, we can answer your questions, and present the treatment options that are best in your individual situation.
If you would like more information about bone grafting, please contact us or schedule an appointment for a consultation. You can learn more in the Dear Doctor magazine article "Can Dentists Rebuild Bone?"
By Arrington Family Dental
November 12, 2013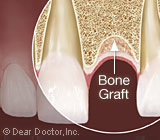 Dental implants are a great choice for many people who need to permanently replace a missing tooth. Reliable and long-lasting, they offer a highly successful outcome, and can even help reduce long-term bone loss and damage to adjacent teeth. One of the best features of implants is that the titanium metal of which they're made actually becomes fused with your natural, living bone tissue.
But sometimes, an examination may show that where you have missing teeth, you may not have enough bone remaining to properly place an implant. Does this mean you're out of luck? Not necessarily!
Employing the refined techniques of bone grafting, regenerating bone tissue has become a standard procedure in periodontal and oral surgery. In many cases, it's possible to build up just the right amount of bone using a variety of grafting materials, in combination with other special techniques. This can enable patients who wouldn't otherwise be good candidates to enjoy the benefits of dental implants.
How does it work? Basically, by helping your body repair itself.
You may already know that bone is a living tissue, which can respond to its environment positively (by growing) or negatively (by resorbing or shrinking). When you've lost bone tissue, the trick is to get your body to grow more exactly where you want it. Once we know where — and how much — replacement bone is needed, we can place the proper amount of bone grafting material in that location. Then, in most cases, the body will use that material as a scaffold to regenerate its own bone.
Bone grafting is often done at the time of tooth removal as a preventive procedure or prior to the placement of an implant, to give the body time to re-grow enough of its own tissue. The procedure is generally carried out under local anesthesia, or with the aid of conscious sedation. Sometimes, if there is enough natural bone to stabilize it, it's even possible to place an implant and perform a bone graft at the same time.
So if you're considering dental implants, let us advise you on what's best for your particular situation. We have the knowledge and experience to help you make the right choices, and achieve the most successful outcome.
If you would like more information about bone grafting, please contact us or schedule an appointment for a consultation. You can learn more in the Dear Doctor magazine article "Can Dentists Rebuild Bone?"