My Blog
Posts for: November, 2021
By Arrington Family Dental
November 11, 2021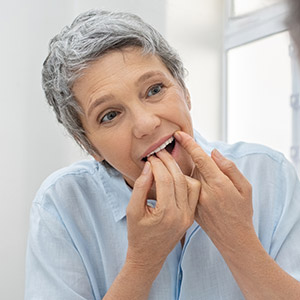 Dental implants have revolutionized restorative dentistry. Not only are they the top choice for individual tooth replacement, implants also improve upon traditional dental work.
Dental bridges are a case in point. A few well-placed implants can support a fixed bridge instead of natural teeth, as with a traditional bridge. Furthermore, a fixed, implant-supported bridge can replace all the teeth on a jaw.
But although convenient, we can't simply install an implant-supported bridge and forget about it. We must also protect it from what might seem at first an unlikely threat—periodontal (gum) disease.
Although the bridge materials themselves are impervious to infection, the natural tissues that underly the implants—the gums and bone—are not. An infection plaguing the gums around an implant can eventually reach the bone, weakening it to the point that it can no longer support the imbedded implants. As the implants fail, so does the bridge.
To guard against this, patients must regularly remove any buildup of plaque, a thin biofilm that feeds disease-causing bacteria, adhering to the implant surfaces in the space between the bridge and the gums. To do this, you'll need to floss—but not in the traditional way. You'll need some form of tool to accomplish the job.
One such tool is a floss threader. Similar to a large needle, the threader has an eye opening at one end through which you insert a section of floss. You then gently pass the threader between the bridge and the gums toward the tongue.
Once through, you release the floss from the threader, and holding each end, you work the floss along the implant surfaces within reach. You then repeat the threading process for other sections until you've flossed around all the implants.
You might also use a water flosser, a device that directs a spray of water between the bridge and gums. The pressure from the spray loosens and flushes away any plaque around the implants.
Whatever the method, it's important to use it every day to reduce the threat of gum disease. You should also see your dentist regularly for further cleanings and checkups. Keeping your implants clean helps ensure gum disease won't ruin your fixed bridge—or your attractive smile.
If you would like more information on keeping your dental work clean, please contact us or schedule an appointment for a consultation. You can also learn more about this topic by reading the Dear Doctor magazine article "Oral Hygiene for Fixed Bridgework."
By Arrington Family Dental
November 01, 2021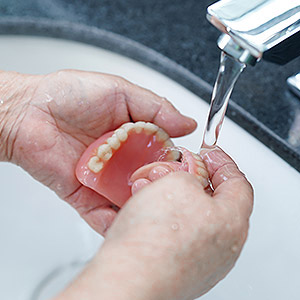 Today's dentures are more comfortable, more functional and more life-like than ever before—so much so that you might forget you have them in. Even so, dentures do have some downsides, and constant wear only amplifies those.
Our biggest concern is the effect dentures can have on bone health. Older bone is constantly replaced by newer bone, and the forces generated while chewing help stimulate this new growth. When a tooth is lost, however, this growth stimulus vanishes with it for that area of the bone. This may result in a slower growth rate, which can eventually lead to lost bone volume and density.
Dentures can't restore this lost stimulus, and may even make the situation worse. That's because traditional dentures rest on the bony ridges of the gums where the teeth once were. This can put pressure on the underlying bone, which can accelerate bone loss—and even more so when wearers leave their dentures in continuously.
Dentures can also contribute to disease if they're not regularly removed and cleaned. Besides oral yeast infections, bacteria-laden dentures can contribute to the production of a protein called interleukin-6 produced by the white blood cells. If a significant amount of this protein passes into the blood stream, it can increase body-wide inflammation and foster a systemic environment conducive to serious diseases like pneumonia.
If you wear dentures, then, it's good for your health (oral and otherwise) to incorporate two practices into your daily life. The first is to remove your dentures at night while you sleep. Not only will this help slow the progression of bone loss, it will also give your gums a chance to rest and recover from denture wear.
It's also important to regularly clean your dentures, either with an antibacterial soap or a special denture cleanser. During storage, keep your dentures in clean water or a peroxide-based solution designed for dentures. This will reduce the accumulation of bacteria on your dentures that can cause disease.
Dentures restore the dental function and smile appearance that a person loses with their teeth. Taking care of your dentures (and giving your mouth a daily rest from them) will help promote good oral and general health for you and a longer life for your dentures.
If you would like more information on denture care, please contact us or schedule an appointment for a consultation. You can also learn more about this topic by reading the Dear Doctor magazine article "Sleeping in Dentures."