My Blog
Posts for: February, 2019
By Arrington Family Dental
February 15, 2019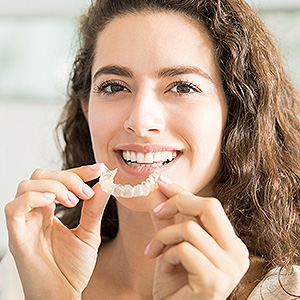 Wearing orthodontic braces brings challenges to daily life. During treatment a patient will need to avoid certain foods and habits, take more time to brush and floss properly, and may endure occasional discomfort. But the effect of metal braces on appearance can be especially difficult, especially for peer-conscious teens.
Clear aligners, though, offer an alternative to braces that could make some of these challenges easier, particularly with your appearance. Aligners are clear plastic trays that fit over the teeth to move them. They can be removed by the wearer for easier brushing and flossing or for special occasions. Best of all, they're much less noticeable than metal braces.
Clear aligners were developed thanks to advances in digital technology. An orthodontist uses a computer application incorporating the data from photographs, x-rays or CT scans of a patient's teeth and jaws to produce a series of clear plastic trays. The patient then wears each tray for about two weeks before changing to the next tray in the sequence.
The trays apply pressure much like metal braces to gradually move teeth to the desired position on the jaw. Each tray is slightly smaller in size than the previous tray in the sequence, so that the progression of tooth movement continues with each succeeding tray. The treatment time is about the same as with conventional braces.
This new orthodontic tool works well for many common bite problems, but until recently they've been limited in scope. But new designs in trays and attachments called buttons added to teeth to provide more leverage have greatly increased their use for more complex bite issues.
Clear aligners also have one other disadvantage, ironically due to one of their principal benefits, removability. Although they can be taken out, they must be worn consistently to achieve results. Some younger patients may not have the maturity level and discipline to responsibly wear their aligners as they should.
That's one issue you'll need to discuss with your orthodontist if you're considering clear aligners for your teen. But if they can maintain wearing consistency, and they have a bite problem that can be corrected with aligners, both you and your teen may find this choice more agreeable and attractive than braces.
If you would like more information on clear aligners, please contact us or schedule an appointment for a consultation. You can also learn more about this topic by reading the Dear Doctor magazine article "Clear Aligners for Teens."
By Arrington Family Dental
February 05, 2019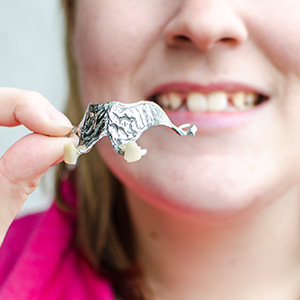 Anyone at any age, including older children and teenagers, can lose or be born missing a permanent tooth. And while those missing teeth can be restored, replacing them in patients who haven't yet reached adulthood can be tricky.
That's because their dental and facial development isn't finished. This is especially problematic for dental implants because as the jaws continue to grow, a "non-growing" implant could eventually appear out of alignment with the surrounding natural teeth. That's why it's often better to install a temporary restoration until the jaws fully mature in early adulthood. Two great choices are a removable partial denture (RPD) or a bonded ("Maryland") bridge.
While "dentures" and "teens" don't seem to go together, an RPD in fact can effectively restore a teen's lost dental function and appearance. Of the various types of RPDs the one usually recommended for teens has a hard acrylic base colored to resemble the gums, to which we attach prosthetic ("false") teeth at their appropriate positions on the jaw.
Besides effectiveness, RPDs are easy to clean and maintain. On the downside, though, an RPD can break and—as a removable appliance—become lost. They can also lose their fit due to changes in jaw structure.
The bonded bridge is similar to a traditional fixed bridge. But there's one big difference: traditional bridges crown the natural teeth on either side of the missing teeth to secure them in place. The supporting teeth must be significantly (and permanently) altered to accommodate the life-like crowns on either end of the bridge.
Instead, a bonded bridge affixes "wings" of dental material extending from the back of the bridge to the back of the natural teeth on either side. While not quite as strong as a regular bridge, the bonded bridge avoids altering any natural teeth.
While a fixed bridge conveniently stays in place, they're more difficult than an RPD to keep clean. And while less prone to breakage, they aren't entirely immune to certain stresses from biting and chewing especially in the presence of some poor bites (how the upper and lower teeth come together).
Choosing between the two restorations will depend on these and other factors. But either choice can serve your teen well until they're able to permanently replace their missing teeth.
If you would like more information on dental restorations for teens, please contact us or schedule an appointment for a consultation.