My Blog
Posts for: February, 2018
By Arrington Family Dental
February 17, 2018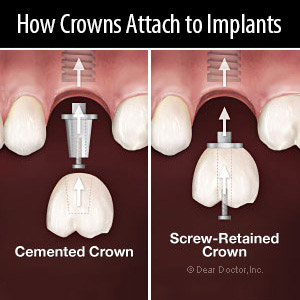 In the realm of restorative dentistry, dental implants are king. A dental implant can replace a tooth with a permanent, life-like restoration with a solid reputation for durability.
Implants are also known for one other quality — variety. Not all implants are alike, and they have varied applications for use. Available in various shapes and sizes, they can be used for a single tooth or as part of a multiple tooth bridge or overdenture. And while their basic architecture is the same, you also have two options for how the permanent crown (the visible tooth portion) attaches to the implant: screwed or cemented.
A screw attachment can securely fasten a crown to an implant without the need for cement; it also allows for easy removal for repair or replacement should the crown become damaged or worn. On the other hand, it could pose a cosmetic problem — even though the access hole for the screw may be covered with a tooth-colored filling, it could still be distinguishable from the rest of the crown. There's also a slight risk of the crown chipping around the access hole.
A crown cemented to the implant won't have this cosmetic issue with an access hole, and will look just like a natural tooth. But unlike a screwed crown, removing a cemented crown can be more difficult. The cement may also cause gum inflammation and potential bone loss in sensitive patients.
The condition of your mouth, the type of implant you're receiving and other circumstances will all factor into determining which method is best for you. If we're "immediately loading" the crown (meaning we're affixing a temporary crown to the implant immediately after placement in the jaw), then the screw method may be more advantageous. Aesthetically speaking, though, a cemented crown may be a better option in terms of final smile appearance.
But whichever method is used, you'll still benefit from what implants do best — help you regain the function lost from a missing tooth and change your smile for the better.
If you would like more information on your options with dental implants, please contact us or schedule an appointment for a consultation. You can also learn more about this topic by reading the Dear Doctor magazine article "How Crowns Attach to Implants."
By Arrington Family Dental
February 02, 2018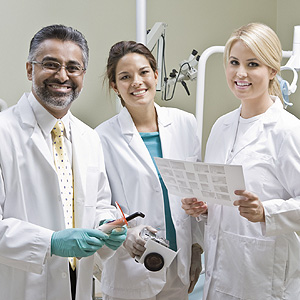 Dental implants are among the most popular tooth replacements with their high success rate, durability and life-like beauty. But obtaining them is a process that requires commitment, planning, and coordination — it takes a team.
Your general dentist is often the first team member you'll encounter: because they're most familiar with your mouth's condition the implant discussion naturally begins here. They can help you determine if you're a good candidate for implants, such as if you have sufficient bone mass at the intended site or if you have dental disease that must be treated first. They'll also continue monitoring your general dental health throughout the process.
Your general dentist may also have the special training for surgically placing implants. If not, he or she may refer you to your next team member: an oral surgeon or periodontist skilled in implantation procedures. This step first requires careful planning, including developing a surgical guide for precise placement of the implant. These specialists may also contribute to other aspects of the implant process such as tooth extraction or bone grafting.
A few weeks after surgery bone will have grown and adhered to the implant to form a solid bond. It's time for you to go back to your dentist who will work in conjunction with another member of your team, a dental lab technician. Together, your dentist and laboratory technician will guide the development, manufacture and placement of the implant's life-like porcelain crown. The technician will take their specifications from the surgeon and your general dentist and, with his or her skill and artistry, form a crown that will blend well in color and shape with the rest of your teeth.
We also can't forget another important team member: you. Without your input, especially in the early planning stages, your expectations for a more attractive smile might not be met. The rest of your implant team depends on you communicating your desires and wishes to balance with the technical requirements they must achieve.
The process for dental implants can take months. But with the coordinated efforts of your implant team you'll be able to enjoy results — renewed function and a more attractive smile — that could last for decades.
If you would like more information on dental implants, please contact us or schedule an appointment for a consultation. You can also learn more about this topic by reading the Dear Doctor magazine article "Dental Implants."